Collegial Audience Discussion
It's almost the end of the event. Before the final presentation, here is a chance to join on stage and share your own thoughts. Celebrate the event with your fellow attendees. Joe will have some questions to post for you – the conference participants. Bring your own questions as well.
Once inside the meeting space, click on "Share Audio and Video" to participate in the discussion. You are welcome to participate from the text Chat area.
Location: Sessions
Date: February 22, 2023
Time: 1:30 pm - 2:15 pm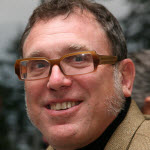 Joe Welinske
UP