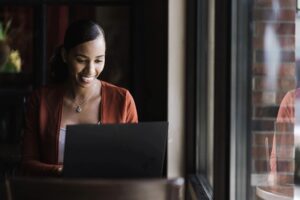 Meeting people is one of the highlights of a conference.
Texting is not the same as meeting face-to-face.
At the UX Writer Conference, you have the opportunity to grow your professional network in brief, one-on-one video chats — or, speed networking.
You have complete control over all aspects of your participation, including the ability to leave a video chat at any time.
How it Works
In the event platform (Hopin), you will join the Networking activity located in the People area. There, you'll find yourself in a virtual room. Press the Join button to indicate when you're ready to start a conversation.
Hopin randomly pairs you with another attendee for three minutes.
Pairings occur only once during an event. The randomness makes it fun.
Introduce yourself and chat about your interests. If you want to exchange contact information, click "Connect" — Hopin saves new connections to your Hopin account.
When your meeting ends, you have the option to meet another attendee. And so on.
Take part, and make new friends, and enjoy!